This has been a turbulent year on many fronts. New solutions and tools appear in the FinTech market almost every day.
Since COVID-19 happened, FinTech companies have begun innovating to deliver efficient and secure financial services. MaybeWorks has extensive expertise in FinTech development thanks to numerous IT staff augmentation projects. We want to tell you about long-standing trends in the FinTech industry that directly affect the consumer experience.
Mobile banking trend in FinTech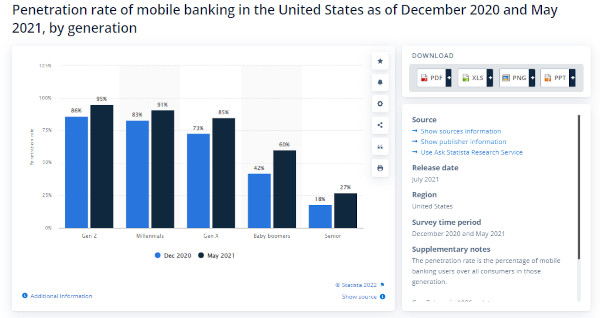 The banking app's target audience is no longer limited to young users and big-city residents. According to Insider Intelligence, 89% of consumers in the U.S. use mobile banking. Moreover, for 70%of consumers, the application on a smartphone has become the main way to access the account.
The trend is noticeable not only in the U.S. market. During the pandemic, the popularity of financial apps grew by 55% in Japan and South Korea. The increase in the U.S. and China was 20%, and in Germany and Italy, 15%. During the first lockdowns, the growth of registrations in mobile banking reached 200%.
The transition to mobile banking allows credit institutions to reduce the number of branches. At the same time, they no longer risk losing the customer base, as before.
What does the mobile banking trend in FinTech mean for consumers? The number of bank branches will continue to decrease, while the functionality of mobile applications will expand to cover virtually the entire range of financial services.
Buy Now, Pay Later (BNPL) trend in FinTech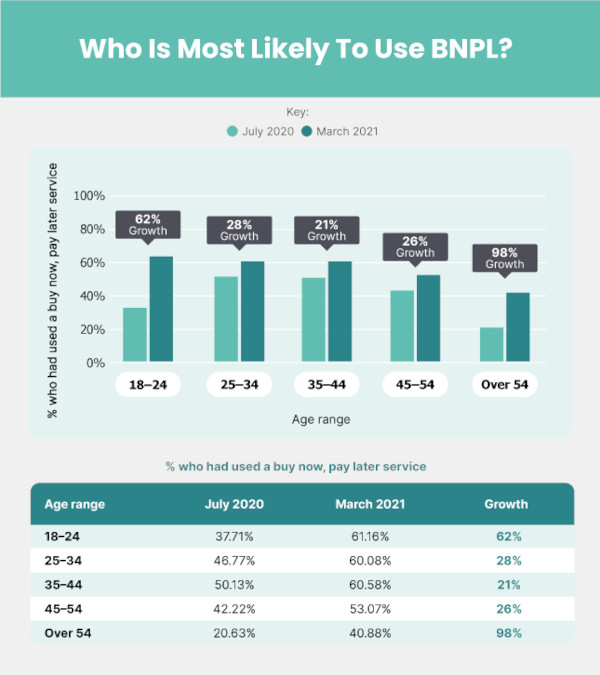 More and more platforms and tools allow consumers to use money for free. According to Grandviewresearch, this FinTech segment was valued at $5.01 billion in 2021 and is expected to grow at an annual rate of 26.0% from 2022 to 2030.
The Buy Now, Pay Later (BNPL) concept involves customers making purchases without having to pay for them immediately. Interest-free installments are provided by special platforms and operators as well as banks, including in partnership with marketplaces.
Typically, BNPLs do not require as thorough a credit check as conventional loans. This expands the range of possible users of the product. In addition, such solutions are eagerly used by millennials and Generation Z, who are looking for convenient tools to manage their budgets.
Affirm is a large representative of this FinTech market segment and held a successful IPO in 2021. On the day of the offering, its stock price doubled to its opening price.
Competing with new players, tech giants are launching their own BNPL products. The Apple Card, for example, allows people to enjoy interest-free credit on Apple devices with no fees or charges.
In turn, banks are picking up the trend and issuing credit cards with long interest-free periods. In some cases, such products may be even more profitable than installment services.
Providing a free product, the credit institution earns the fee for acquisition, which the outlet pays. But generally, the banks do not have the task of making money on a single product. It is more important to offer a wide range of such products: the organization will earn more on some products, while the other will earn nothing.
Until recently, a credit card was considered a product that was worth signing up for the sake of a single purchase. Now the situation has changed. The frequency of credit card use is unbelievable. They are approaching that of a regular debit card.
The top 3 categories people spend money on with credit cards are groceries, clothing, and home goods. But that doesn't mean that customers pay for groceries with a credit card because they have a hard time at all. On the contrary, they realize how convenient and profitable it can be.
What does Buy Now, Pay Later (BNPL) trend in FinTech mean for consumers? More opportunities will emerge to buy in installments and not pay interest, especially on the internet.
AI trend in FinTech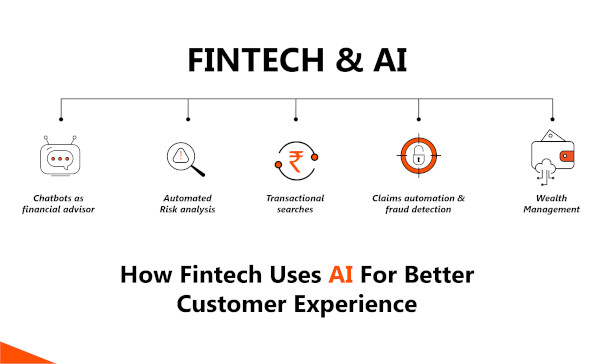 Artificial Intelligence technologies have matured sufficiently to be applied to the financial sector. According to OpenText's survey of financial market professionals, most banks (80%) are well aware of the potential benefits of AI and machine learning. Two-thirds of organizations are already implementing relevant strategies and plan to deploy such solutions soon.
There are many options for applying AI in the financial sector, from chatbots to personalized recommendations. One of the most exciting and long-awaited scenarios is detecting and preventing payment fraud and combating money laundering and other crimes.
Comprehensive ML algorithms are already being used to manage fraud and detect abnormal activity in card transactions. That said, elements of AI can be combined with voice solutions. For example, to create "smart" answering machines that take suspicious calls instead of the caller.
Startups developing AI to combat fraud are attracting millions of dollars in investments. One of them, Resistant AI, was invested in by GV (formerly Google Ventures), the investment arm of Alphabet.
Revenue from AI solutions to counter fraud in 2020 was about $6.5 billion. Future Market Insights expects that number to rise to $39.5 billion by 2031. Companies and users are concerned about the rise of digital fraud, fueling demand.
What does the AI trend in FinTech mean for consumers? There is hope that there will be fewer pesky "security service" calls and fraudulent transactions, but it will take time.
Built-in payments trend in FinTech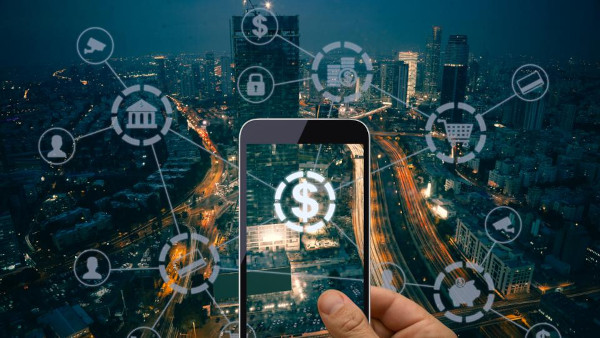 The Internet of Things and the rise of connectivity are starting to affect the payments industry. Given the amount of information that can be transferred between devices, the need for physical cards and account numbers is being questioned.
Companies experiment with biometrics-based payments. For example, Amazon Go launched a pilot contactless identification service. Customers' credit cards are linked to their palm prints, creating a unique biometric signature for each user. To pay in-store, all they have to do is hold their palm over the special device.
Payment solutions are embedded in a wide variety of software today, says Terry Angelos, senior vice president and head of financial technology at Visa. He says more and more credentials are inside platforms connected to IoT devices - cars, electronics, and appliances.
But the market's potential still needs to be unlocked. In addition, developers have yet to secure the new channels and devices through which payments will pass.
What does the built-in payments trend in FinTech mean for consumers? Refrigerators won't start ordering and paying for food anytime soon, but payment for goods and services is already getting closer.
Voice payment trend in FinTech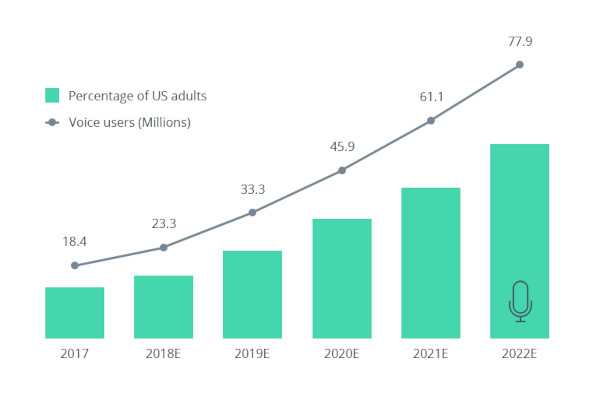 Demand for virtual assistants has increased globally. It is connected first of all to the development of technology itself. Assistants are becoming smarter and more accurate, and trust in them is growing. Therefore, analysts are sure that virtual assistants will firmly gain a foothold in the FinTech market.
The popularity of virtual assistants serves as a driver for the voice payment market. According to Emergen Research, in 2028, it may more than double to $41.5 billion from $19.9 billion in 2020.
Several major players in the financial market have already implemented such solutions. So Visa launched voice payment by card in restaurants. The function works through a virtual assistant without the participation of waiters or the delivery operator. The person needs to enter their card number the first time they use it. Payments can then be made by voice using a code word. Mastercard is working on similar voice payment platforms.
What does the voice payment trend in FinTech mean for consumers? The process of paying for whatever they need will continue to become simpler, and it will become more difficult to avoid impulse spending.
MaybeWorks expertise in FinTech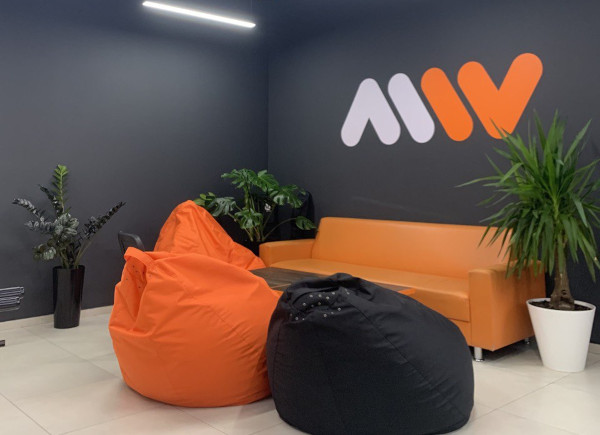 One of the last projects MaybeWorks developers have assisted in was Fintech and SaaS application that allows users to manage and organize their subscriptions in one place. The main idea of the client was to code and successfully deliver to the market a brand-new FinTech SaaS application based on the MEAN tech stack. The development process was based on an Agile approach with multiple iterations. With our assistant, the client received NodeJS/Angular11 web application that allows the user to:
Get full information about subscriptions
Have one endpoint to get all invoices
Set up payment alerts, reminders, and monthly reports
Thanks to MaybeWorks engineers involvement, FinTech project development was smooth and effortless.
Feel free to contact us to discuss assistance in your FinTech project development.