To develop a business, an entrepreneur must not only offer his potential customers a good and high-quality product or service but also simplify communication between the customer or buyer and the company's representative.
Customer convenience and comfort have a huge impact on successful product promotion, so every person in business promotes his or her brand and creates a website with a mobile application. It is impossible to do without a mobile application in today's world.
Due to the presence of a quality application, the entrepreneur can easily develop the business, increase the client base and raise the level of trust in the company. This also applies to corporate mobile projects, which help to simplify communication between employees and improve their work efficiency. The only remaining question is to decide what this application should be, whether it is worth stopping at a cross-platform mobile application development option, PWA, or choosing a native one.
Native mobile application development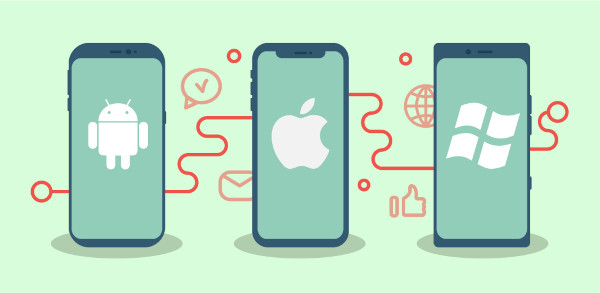 Native mobile applications are developed and adapted to the specific operating system installed on the gadget - Android, iOS, etc. Such applications use the hardware functionality of a particular OS: camera, geolocation, voice recorder, etc. In addition, native applications have access to services of the device: audio and video files, notifications, calendar, etc. If desired, the user includes push notifications, which are also supported.
The advantages of native mobile applications:
High performance. Since the technologies used in the development of platform-dependent applications are directly related to the platform, native code has direct access to all functions of the operating system. Easier interaction of the application with the native functions of mobile devices increases the overall performance of the application, especially when presenting graphical or multimedia content.
Making the most of the platform's capabilities. Native apps are conceived and developed to solve specific problems on a specific platform. This leads to a better match of application capabilities with the hardware capabilities of the devices, including Bluetooth, NFC, camera, GPS, etc.
Better user interface. Because native apps integrate directly with the mobile operating system, perceiving and using all available hardware features, users can navigate through a familiar interface without much hassle, resulting in a positive user experience (UX) and consistent reuse. For example, with so many different screen resolutions on smartphones right now, it's important to have an app optimized for that screen so that the user is comfortable using that app.
App stores. The quality of user experience is an important ranking metric in app stores. If an app has a high user experience score, it will be more highly rated by the app store, leading to more recommendations for different audiences and more revenue from the app, respectively.
The disadvantages of native mobile applications:
Expensive and time-consuming development. Creating separate applications for each operating system at once can significantly prolong the development process. The same software code cannot be deployed on different platforms, and programmers will need more time to convert and rewrite the code, which increases development costs and time. If a company wants to create separate applications for each platform, it may have to hire additional specialist programmers. For example, one developer will focus on iOS app development and another on Android app development, further increasing costs.
Incompatibility with another mobile operating system. When an app is developed for a specific OS, its developers use a language specific only to that operating system: for example, Objective-C or Swift for iOS, Kotlin, and Java for Android. In this context, a native application that was originally written for iOS will not be compatible with Android devices and vice versa.
Missed opportunities. Developing apps that focus on only one platform can lead to missed opportunities. Especially if other platforms are not taken into consideration beforehand.
Creating native apps is always a huge expenditure of money and time. There are no typical projects, applications are developed individually.
Cross-platform mobile application development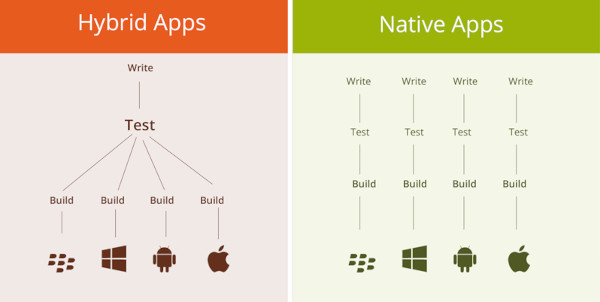 All programs are written in different programming languages and for certain operating systems, but there are such apps that work fine on all platforms. Such universal applications are called cross-platform mobile applications.
Instead of the specific programming languages used to create native projects, cross-platform mobile applications are developed using the markup language and styles used to create conventional web pages. We are talking, of course, about HTML, CSS, and JavaScript, which allow the creation of a single application adapted to work on all operating systems and most devices. Developers often use PhoneGap or Ionic Framework when creating cross-platform mobile applications.
The advantages of the cross-platform app:
One code is available for reuse on other platforms. The main advantage of cross-platform mobile application development is the fact that the same code can be used on different mobile platforms. Unlike native application development, cross-platform application development does not require a separate technical stack for each operating system. Code reuse makes it easy to deploy the app to a different platform since the app's features implemented on one platform will work on other platforms as well.
Cross-platform application development is cost-effective. One team can implement the right idea on all platforms at once, using a single technology stack. This results in less resource consumption. The savings are obvious. One team works on cross-platform mobile applications while developing an application on the popular iOS and Android operating systems will require two teams of developers, which is an additional cost. And if you want to make changes to the list of services or add new tools or functions, you will need to make adjustments in two apps simultaneously. In the case of cross-platform mobile applications, any changes are made relatively quickly and without problems.
Easy and fast deployment. Cross-platform application developers don't need to learn multiple technology stacks of different platforms before building their applications, they need to be well-versed in one development stack and its features.
Cross-platform apps cover a wider audience. Cross-platform apps offer developers more opportunities to reach a wider audience because such apps reach users of all types and mobile devices, regardless of their operating system. This is significantly more cost-effective for businesses than having a presence on just one platform.
Disadvantages of the cross-platform app:
Cross-platform applications are not as flexible as native applications. Working with a unified technology stack will not provide the same flexibility of customization and optimization as using a technology stack individual for each OS.
Cross-platform apps don't have the capabilities of native apps. Using one universal technology stack sacrifices flexibility. For example, our developers could not connect the built-in Android Google Maps. They connected by including the web version, and this immediately led them to problems with the map display when working offline and the map download counter.
Possible UI mismatch across platforms. App appearance and proper UI customization to match the functionality in both systems can pose problems (even though the modern version of Ionic tries to apply styles specific to different platforms). For example, each system has different design requirements for UI elements. In certain cases, these requirements may be mutually exclusive.
Cross-platform app development is a universal approach that is widely used to save time and money.
PWA (Progressive Web App) mobile application development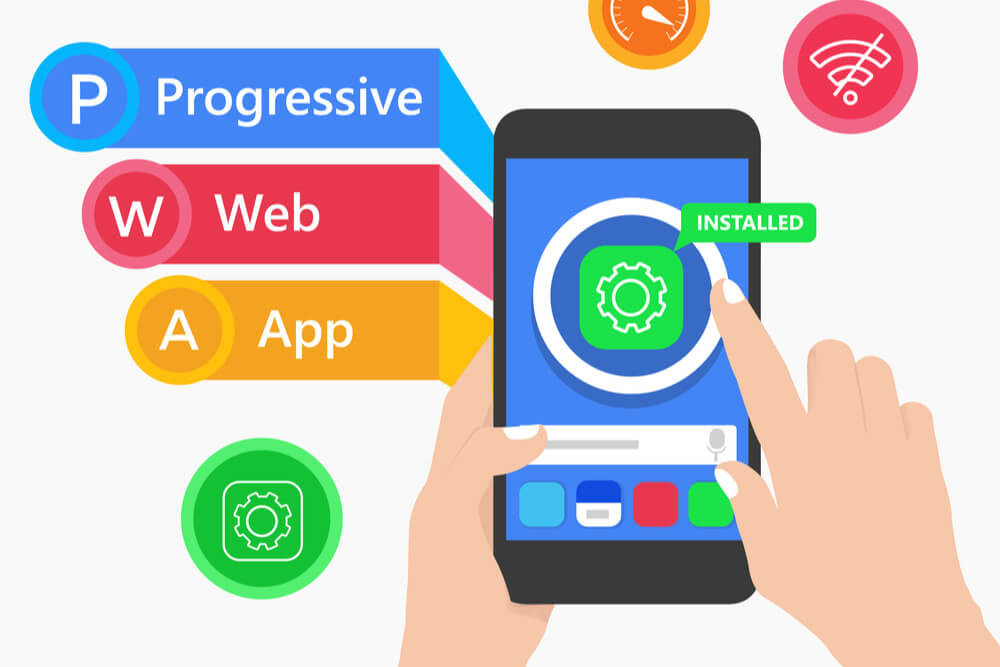 PWA is a particular technology in web development. It lets you run a web page that feels like an application while retaining its visuals and functionality. PWA is available as a regular website and is indexed by search engines. This technology can work on absolutely different platforms and operating systems. At the same time, it is necessary to develop and support only the website. In general, PWA is something between a website and an application.
The advantages of PWA:
Savings in development costs. You won't need to develop separate apps for Android and iOS, as it's quite expensive. In addition, you won't have to wait for a long time, as creating a PWA for a ready-made website will be much faster than developing a native app.
Cross-platform. PWA works on different operating systems and devices. There is no need for separate development for each system, testing, and adaptation.
Memory savings. These web applications will take up much less space on a smartphone. One example is Pinterest, which has reduced the memory footprint using PWAs to 150kb.
Work with the applications and functionality of the smartphone. There is access to the main external elements of the system because PWA runs in webview - the main component of the browser.
Fast installation speed. PWA is installed on the user's device in a couple of clicks. There are no need in AppStore or Play Market. Unlike native and cross-platform apps, whose download and installation to the device will have to wait for some time, PWA is installed automatically.
The disadvantages of PWA:
Compatibility with iOS. Starting with iOS 11.3, it has become possible to run PWA on Apple devices, but you can forget about compatibility with older devices. Moreover, Apple does not allow PWA access to many important features, including Touch ID, Face ID, ARKit, Bluetooth, and even battery information.
Problems with legacy devices. PWAs have only been around for a few years, so it's not surprising that older mobile devices with outdated web browsers don't support them very well. While this problem will inevitably resolve itself in the future, it may be a source of customer complaints for some companies.
PWAs can't do everything. The capabilities of PWAs do not allow them to do everything that mobile applications can do. Because they are written in JavaScript, they use up less battery power than apps written in native languages such as Kotlin or Swift. Their performance is also inferior to native applications, mainly due to the single-threaded nature of JavaScript.
All the major advantages and disadvantages of Progressive Web Apps stem from the fact that PWAs combine the convenience and reach of the web with the functionality of native mobile apps.
What mobile app type to choose?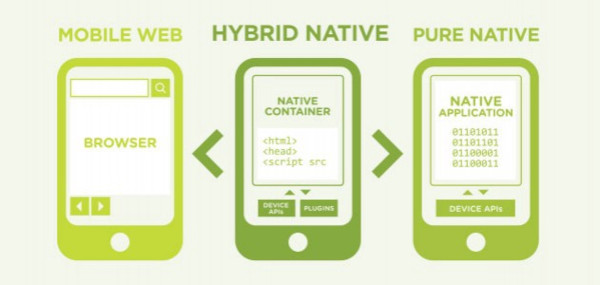 The development of cross-platform applications will be optimal for small businesses, as it provides a universal product with relatively small financial investments. There is no need to spend time and money creating two complete native programs for popular operating systems. All the more, if you need an application that is not too complicated, you want to enter the market as quickly as possible and increase your audience.
However, do not assume that cross-platform applications are ideal for all occasions and will suit all companies, while native ones can be written off as unnecessary. Cross-platform developments have disadvantages, including low performance, difficulty adapting the design, and writing the code.
Therefore, to create complex multifunctional projects, if the appropriate funding is available, the native mobile application is often chosen. The cross-platform approach helps save time and money and is ideal for creating simple applications.
So, we discussed different options for mobile app development. Each of them has its pros:
If you have an idea to try it out, the easiest way is to start with the PWA option, and then, if you need Google Play and the App Store, wrap it up in a native shell
If you have resources and a great idea, you should start a native mobile app development
If you don't want to write the mobile app twice, you can choose a cross-platform framework like React Native, or Flutter
MaybeWorks IT staff provider can augment your PWA or cross-platform mobile application development team.
MaybeWorks expertise in mobile applications development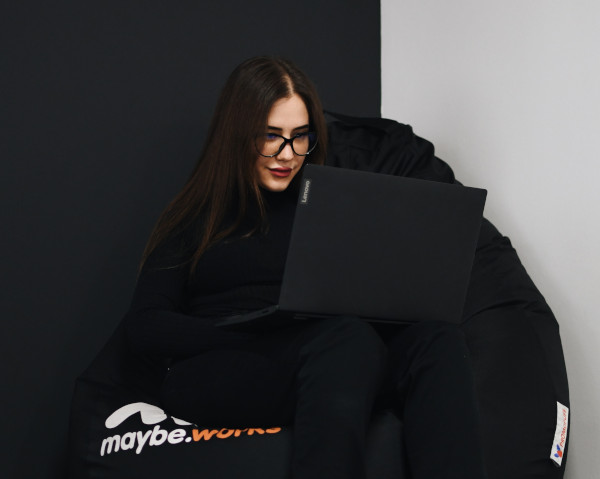 The last project assisted by the MaybeWorks IT staff provider was the Ionic hybrid application for making gift-giving easy and fun. The client wanted a highly comprehensive hybrid mobile application that would allow users to be reminded about their important events/holidays merged with discovering gifts for these events through a built-in Amazon shop.
Our augmented developers completed the following tasks:
Creating a whole new Ionic hybrid mobile app
Setting up a whole new DB
Implementing integration with the Amazon market (along with Woocommerce API)
Implementing a new Admin panel
Implementing Push Notification system (Firebase-X/ firebase-dynamic links)
Handle authorization (Using AWS Cognito)
Multiple bug fixing/testing on both iOS/Android
Creating and configuring iOS/Android builds
It's worth mentioning that figuring out and setting up the new DB structure was a challenge as it had to be done considering a vast number of features for future mobile app functionality. All data integrations and tables related to them had to be done in a precise and timely manner.
Feel free to contact us to discuss assistance in your сross-platform mobile application development.