Businesses are under pressure to adapt to the rapid development of technology. Today, every commercial venture is connected to the Internet, where most goods and services are sold.
Businesses understand that there is a need to introduce modern technical tools for accounting key business indicators, for building a sales department communication with customers, and for checking the work of employees and departments. CRM systems solve these issues. The development of a CRM solution is aimed at increasing customer loyalty and increasing sales, which is of great importance for business interests. In this article, we want to discuss the necessity of custom CRM development.
Why is custom CRM systems development necessary?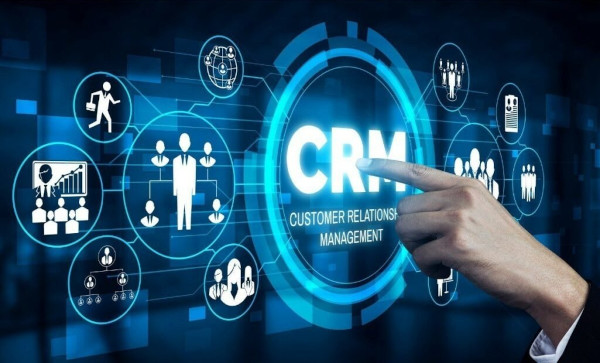 The development of a CRM system is needed to organize convenient accounting in one place and automate business processes. The set goals are achieved with the help of customer relationship management systems. Developing custom CRM software allows businesses to interact best with the client audience. Moreover, this approach helps in creating an effective mechanism of marketing, service management, and sales. Custom CRM also solves many basic tasks, including creating a single source of information about the client.
The following niches benefit most from the custom CRM development:
Real estate agencies
Online stores (eCommerce)
Enterprises
Construction companies
Trade companies
Transportation companies
Travel agencies
Banks
The vast majority of off-the-shelf CRM systems are universal. They allow you to solve a huge range of tasks. Unfortunately, they are not convenient. Most users of off-the-shelf CRM systems usually need no more than 10-20% of the features. After all, to use the off-the-shelf CRM solution properly, your employee will have to study it all. To perform simple tasks in off-the-shelf CRM, your employee will have to perform far more actions than he or she will do in the case of custom CRM. It is also worth noting that most off-the-shelf CRM systems are computer programs and can not work on mobile devices.
Another good reason to order the development of CRM software is the lack of functionality of off-the-shelf systems. Sometimes we meet companies that use 4-5 different CRM systems simultaneously. This looks as follows: customers are in one system, projects - in another, document management - in the third, etc.
Here is an example of one such case. The company has 5 managers with a salary of $700. Each of them spends 1.5 days a week reporting and comparing data from different systems. Using simple calculations, the company spends $1050 per month to perform the work that can be automated and, in their case, fully paid back in 6-7 months.
What business problems does custom CRM software development solve?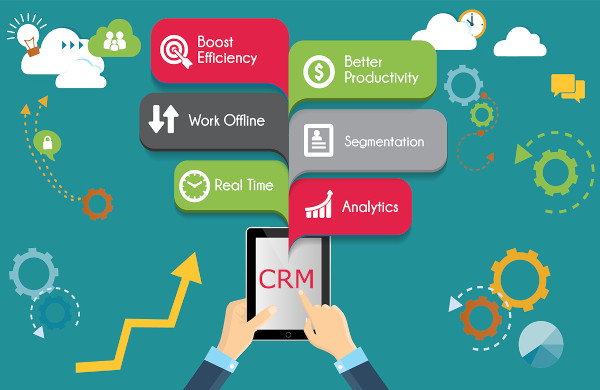 CRM software primarily serves to automate sales and customer communications but also automates other work processes, document management, and task setting. All actions are automatically documented so that the manager can easily see and evaluate the work of his subordinates at any stage of interaction with the system. CRM system for business helps dozens of times to speed up the processing of applications and reduce the time of filling out documents. Custom CRM solves the following business problems.
Loss of new clients
CRM helps eliminate the loss of new clients. CRM takes away the factor of poor customer service when a manager simply forgets to call back in time. Also, after answering the client, managers often forget to take him or her through the sales funnel, and the deal is simply lost. CRM solves these problems. For each client, CRM sets managers tasks - to call back, to send, to get an answer, to write, etc. By doing so, they clearly see who they need to talk to today and who only next week.
Unclear indicators of managers' work
The development of a CRM system will allow the company to monitor the work of the sales manager:
Whether he or she correctly communicates with the client
Whether he or she sells according to the script and the sales funnel or just speaks in own words
A friendly interface provides widgets to compare the effectiveness and productivity of managers - the number of calls and minutes per day, how many customers were moved through the sales funnel, how many sales were there in a month, and for how much money.
All calls and customer touchpoints are attached to the deal card and are available for listening and evaluation.
CRM simplifies employee interaction. The number of sales grows mainly due to the proper set up of processes and KPIs around the system.
Requests from different sources get lost
CRM allows your company to combine all communications:
Some people like to communicate on the phone
Some are more convenient to write an email or on WhatsApp
Some leave requests on the website
Others make orders directly via comments on Instagram
Managers often are bogged down in dozens of ways to communicate with different clients. But with CRM, he or she can answer all the messages from one window and listen to all the past negotiations with the client to remember the agreements.
Leads are not converted into sales
CRM marketing allows your company to bring the client to a sale by showing advertising banners with the right message, depending on the stage of interaction with the client.
Routine is time-consuming
CRM automates the routine by simplifying the work of managers:
A customer who left a request can automatically receive an email and SMS with a greeting
Your advertising will start to catch up with him or her on social networks
If the client is already close to purchasing, your manager will prepare an invoice, contract, and accompanying documents in 1 click, reducing the paperwork time. Details, goods, and costs will be automatically imported from the deal card.
CRM helps to automate sales and communications with customers and counterparties, as well as monitor managers' work and other key business processes.
What can be connected and integrated with a custom CRM system?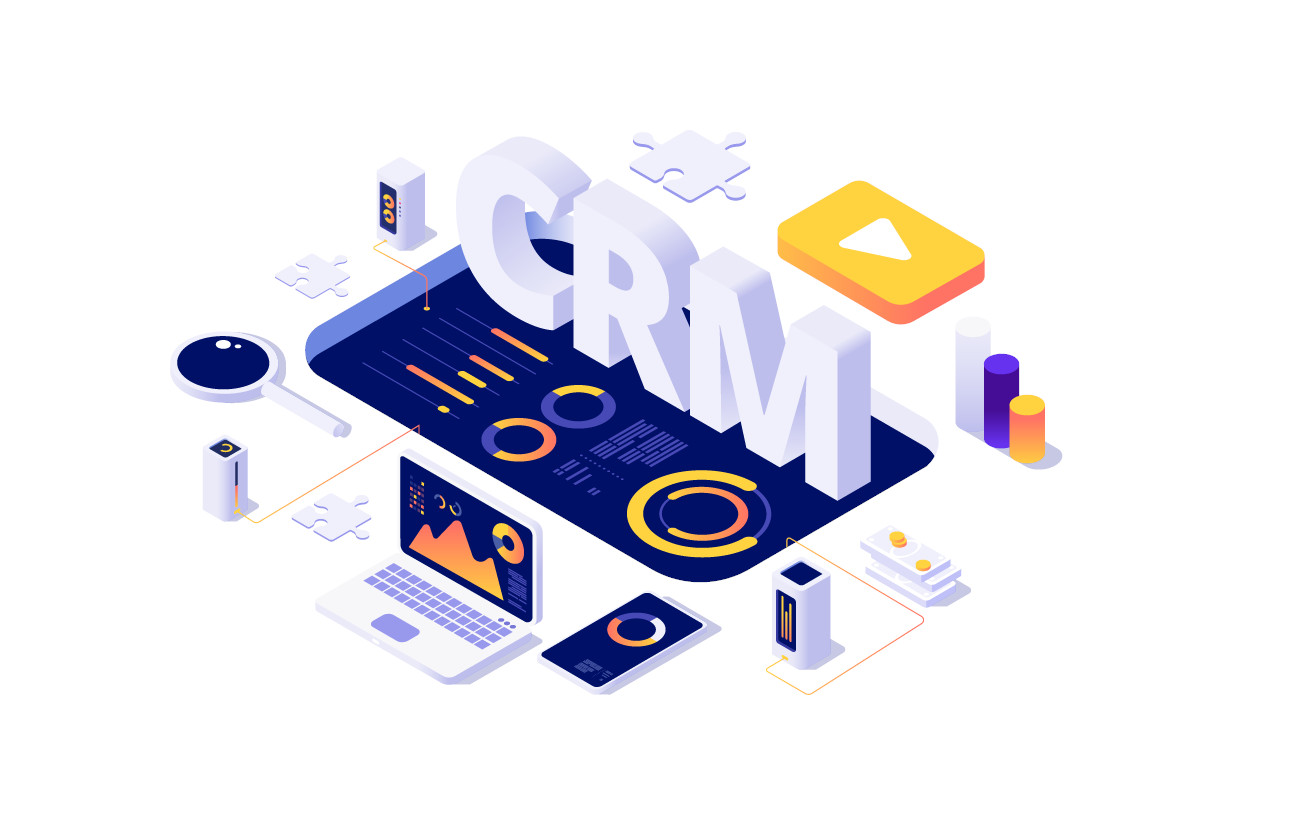 An important factor in business automation is the integration of a custom CRM with other services and software. It is possible to connect custom CRM with almost everything. Here it is important to understand 1 point. For many CRM systems, there are ready-made integrations, and they may be free or paid. And if there is no such integration, your company must connect the needed service with the help of the open API. You can connect to your CRM:
IP telephony
Email
Instagram
Facebook
Skype
Viber
Google calendar
Outlook
Office 365
QuickBooks
Warehouse accounting
SMS sending services
Application forms from the website
Online chats
Useful services like document generation services, online banks, transport companies, etc.
CRM software stores information about customers from different sources, as well as the history of interaction with them. CRM integration with different software allows your company to increase sales, reduce costs and improve customer service.
What functions must be in a custom CRM software?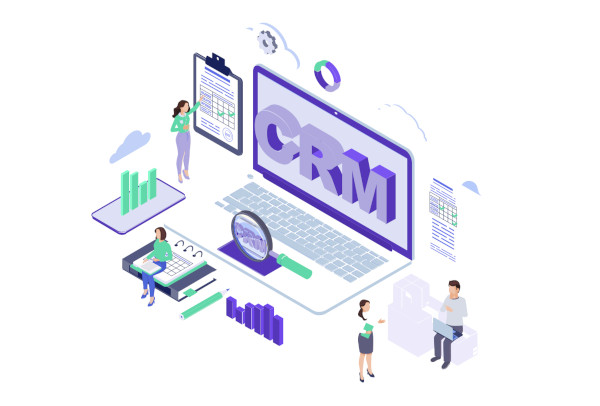 Different custom CRM systems have their own functionality, which is suitable for running a particular business. Still, some tools should be in any custom CRM software to optimize the work:
Contact management. This feature of a CRM system structures customer contact data, which leads to a better understanding of their needs.
Sales management. A tool for quantifying sales opportunities should be in any CRM system.
Target audience identification. The CRM software matches similar customer traits based on demographic, geographic, and psychographic factors, which also helps in company development.
Reports and dashboards. This feature is essential because it helps employees see and analyze performance statistics visually.
Sales analytics. Thanks to sales analytics, your team can draw conclusions about which direction to take steps in.
Data warehouse. CRM systems typically have built-in data protection and backup tools.
Chat integration. This tool makes it possible to communicate with employees within the team inside the CRM software, as well as employees with customers.
Integration of web analytics. This feature collects data on visitors to the site, analyzes this information, and identifies problem areas.
At MaybeWorks, we have broad expertise in custom CRM development thanks to augmenting several CRM development teams.
Off-the-shelf CRM vs. custom CRM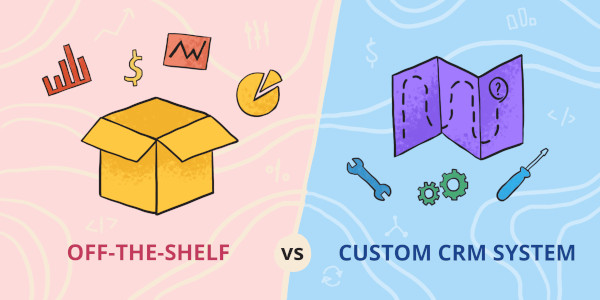 Every company has dozens of unique processes that are closely living to each other. And very often, they are interested in one common question - what CRM to choose: custom or off-the-shelf? Below we compare off-the-shelf CRM and custom CRM.
| Off-the-shelf CRM | Custom CRM |
| --- | --- |
| Off-the-shelf CRM is universal. Therefore it has unnecessary features and does not consider the company's specifics. | Custom CRM is created taking into account the specifics of the direction of the company and includes only the necessary functionality. |
| Off-the-shelf CRM has serious limitations and cannot be integrated into a range of services your business may require. | Custom CRM easily integrates with any necessary services like IP telephony. |
| Most off-the-shelf CRMs are available only on a monthly payment basis. To connect a new employee to it, your company will have to pay an additional fee. | Custom CRM is available on a free-of-charge basis after the development is ended. The number of users is not limited. |
| Off-the-shelf CRM provider undertakes to configure the system and the security of data in it by their own forces, as the system can only work on its servers. | You can host custom CRM on your servers. In this case, you guarantee data protection and provide the necessary configuration. Ownership rights and source codes remain with your company. |
| Some of the functionality is quite complex and cannot be mastered by ordinary employees without special instructions. | Before implementing the CRM system, the development company can teach your employees all the nuances of its proper use. |
| Off-the-shelf CRM can not be further developed, as well as expanded with the desired functionality. | At any time, custom CRM can be changed and finalized by a contractor, a third-party programmer, or a company specialist. |
MaybeWorks expertise in custom CRM development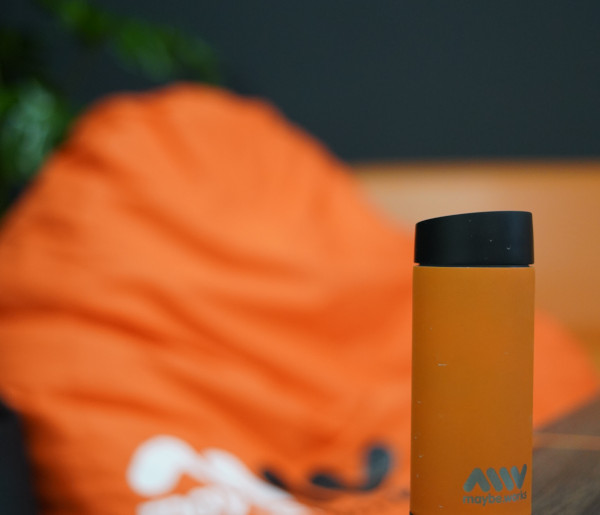 It is simple to achieve maximum results in sales with custom CRM software. Tracking each request, collecting all the information in a single database, setting and controlling the tasks of subordinates - this is just a small list of features that a custom CRM system will open up to you.
The last project where our developers augmented the client`s team was the appointment booking CRM system - a cloud-based CRM for small and medium-sized businesses. With it, a manager can schedule appointments with clients for services and group activities, take payments, and send reminders. This appointment booking CRM system is integrated with Google Calendar, Outlook, Office 365, QuickBooks, etc.
MaybeWorks IT staff provider augmented the client's team with a full-stack developer. His main focus was on backend functionality (optimization and enhancing functionality). The main and most complex task he completed was REST API development from scratch (with OAuth 2.0 authorization).
Our mission is to help our clients solve difficult problems and always be there for them when they need us. Feel free to contact us to discuss assistance in your custom CRM development.