MaybeWorks is an IT staff augmentation provider partnering with clients worldwide since 2012.
MaybeWorks is an IT staff augmentation provider partnering with clients worldwide since 2012.
Small and medium-sized businesses often approach us for web development assistance because we have React/Angular and Node.js (Nest.js / Express) developers with knowledge in AWS/Google Services and Database Management (MongoDB, MySQL, PostgreSQL). Sometimes we are asked how we differ from freelance developers. It is time to explain what the difference is. This article is based on our experience and inside processes.
Web development with freelance developers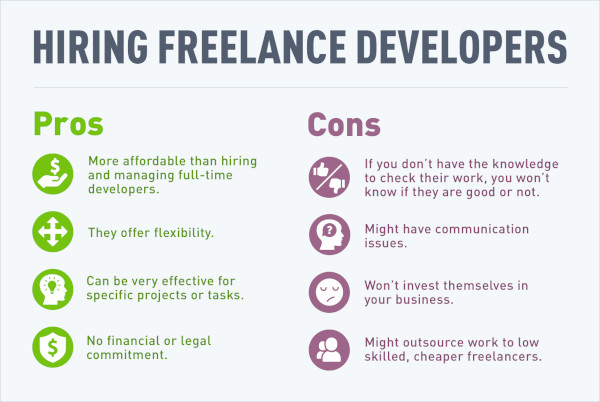 Freelance developers are the main competitors of IT staff augmentation providers and web development studios. While adults scare children with scare stories, web development agencies scare clients with freelance developers. This looks like "You will order web development assistance, and the freelance specialist will disappear with the payment or do badly." And it is a real problem if you are working with them without contracts and guarantors.
It is easy to find a freelance developer on the Web. Freelancers are constantly looking for clients. They post their offers on social networks, freelance websites, Telegram chats, etc. Most freelance developers are hungry for orders so that they will come out to you. But they have more disadvantages than advantages:
Lack of guarantees on the part of the freelance developer. When an employee works out of state, he can afford to disappear and not get in touch, fail to meet a deadline, and simply walk off into the sunset after being paid. You will also have to solve this problem: wait or look for another performer.
Lack of ability to scale processes. When it comes to freelancing, it most often means the work of one person. As a result, it is difficult to scale the development processes without your engagement.
Difficulties in further development. Here we are talking about the so-called code culture. When a project is managed by a professional and the code is created correctly, other developers do not have further questions while working with it. This means there are no problems during the finalization and development of the project. It is the code culture that freelance developers can't.
Quality of the final product. There are a lot of pitfalls. If everything goes smoothly and you end up with a great application, it's nothing but a gift from above and universal luck.
It is better not to consider freelance developers at all if you need stable work on web project development, for example, a complex website. IT staff augmentation providers are the best option for this purpose. Below you will find why.
Web development with IT staff augmentation provider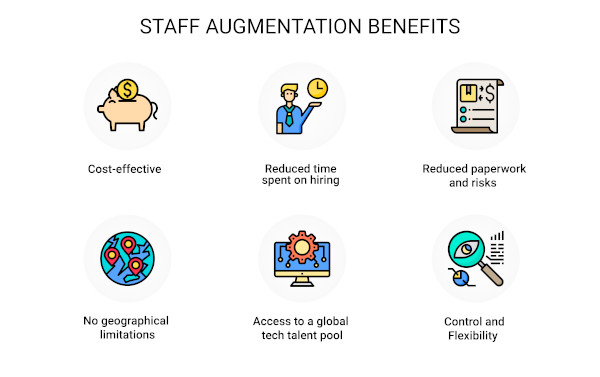 IT staff augmentation providers differ primarily in scale - from three web developers who joined forces to IT staff augmentation providers working with giants like Nike and IKEA. IT staff augmentation providers can find a developer with almost any tech stack, whether it is React, Angular, or Node. There is no need to look for an additional contractor if you want to implement a new feature with another tech stack. Cooperation with an IT staff augmentation provider has many advantages:
Qualifications and experience. IT staff augmentation providers invest in the constant training of web developers. Almost every month, there are new web development tools, and for a professional web developer to ignore changes is like death. Also, web developers are tested every six months to confirm their level in web development.
Maintain reputation. The success of IT staff augmentation providers strongly depends on reputation, so it is given a lot of attention. An IT staff augmentation provider will never jeopardize its reputation because of minor problems or disagreements. That is why they are as much client-oriented as possible.
High work speed thanks to great management processes. All processes are fine-tuned, so the web development is as efficient as possible. Dedicated staff does not waste time in vain and actively helps in development.
Interchangeability. If a web developer assigned to you gets ill or has to leave suddenly, you will be offered the option to replace him or her with another, handing over all the development processes. You will not have to waste time looking for a new contractor and explaining your tasks in a second circle.
Comprehensive approach. If the web development project requires several non-standard solutions, IT staff augmentation providers can provide you web development experts you need to cope with the project more effectively.
As an IT staff augmentation provider, MaybeWorks can help startup founders, CTOs, Software Development Managers, and Product Managers who are:
Seeking to augment in-house development teams with new engineers
Growing fast and looking for a reliable development partner to sustain the momentum
Not able to achieve the goals with the current provider due to cultural and communication issues or poor software quality
Struggling with engineer turnover and looking to build a long-term relationship
We stand out among other companies due to our technical expertise and proven reliability. Our developers worked on the most complicated IaaS, PaaS, SaaS, FaaS, and CaaS projects. Having started our way 10+ years ago, we have tailored our work principles to meet top bar expectations.
Feel free to contact us to discuss our assistance in your web project development.